Meet the Masters @ WRAPSconnect – Panel Discussion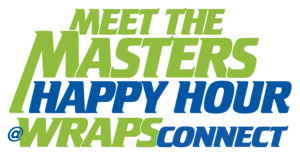 This moderated afternoon panel discussion will take a deep dive into utilizing the industry's available programs and resources to ensure your aggressive shop growth, navigating changes in the market, and evolving into new profit centers and fine-tuning your plan, including your exit strategy. Join industry influencers as they discuss their big leaps of faith. There will be a 45-minute moderated session followed by 30 minutes of Q&A, followed by a wraps family happy hour, aka, Meet the Masters. This can't-miss event fills up quickly.
Speakers
Success Stories
What our attendees have to say
---
Melanie Hutchinson

The Embroidery Hutch

Having the ability to interact and speak with suppliers and educational professionals and to see new products is priceless!

Charli Belz

Impress Designs

Each time I attend GRAPHICS PRO EXPO I come away with new knowledge and resources. One of my favorite things is the training offered; I love being able to offer my team new ways to expand their knowledge from other sources in the industry!

Bill Kuiper

Clan Customs, LLC

The amount of new information I gain both in training sessions and talking to the exhibitors on the floor is fantastic!

Mike Leary

Sundance Sign

This show is an investment in my business. After seeing the diverse cross section of information available, it inspired me to look at other products and services that we could provide to our customers, and ways to do what we do better.

Chris Merz

Harbor Wraps

I have attended the GRAPHICS PRO EXPO two years in a row now and have had an amazing experience both times. It's a fantastic place to connect with vendors and other industry professionals.

Judy Kriehn

Dallas Makerspace

This has always been an event that I've looked forward to each year, and I wanted to thank you for a very nice event yesterday. I got a lot out of the UV printing seminar in the morning and had good discussions with a few vendors as well.

Erich Elfeldt

LanternMax Engraving

Attending GRAPHICS PRO EXPO is essential for anyone in the business. I go every year and always learn something new. Meeting suppliers face-to-face has really helped leverage my product line, and the personal contacts I make are invaluable. GPX is a can't miss event and already on my calendar for the next one.

Kerstyn Kunkle

Kunkle Kreations

I really enjoyed the show and learned tons of new tricks to better my business. I'm grateful for this experience and the opportunity to meet with vendors that related to my line of business. There is really everything for anyone who works with designing/producing custom graphics.